Are you an investor looking for exciting new opportunities? Are you an small business in need of growth capital? Reap the benefits of equity crowdfunding!
Eureeca is an equity crowdfunding platform with offices in Dubai and London that connects early-stage businesses and SMEs with investors. Founded in 2013 by former investment bankers, Eureeca allows businesses to raise capital from a crowd of investors in exchange for equity.
For early-stage businesses and SMEs in need of capital to continue growing, Eureeca is an ideal financing option as they can tap into the resources — both financial and informational — of its vast investor network. Businesses that successfully raise money on Eureeca are not only recipients of growth capital but also inherit a large team of knowledgeable, financially invested and well connected brand ambassadors.
Eureeca democratizes the investment process and provides a consistent flow of investment opportunities on a single digital platform. Investors can look for business deals, engage with entrepreneurs and fellow investors, and make equity investments all from the comfort of their living rooms.
Eureeca has regulatory approval from the UK's Financial Conduct Authority (FCA) and is a founding member of the U.S.-based National Crowd Funding Association (NLCFA).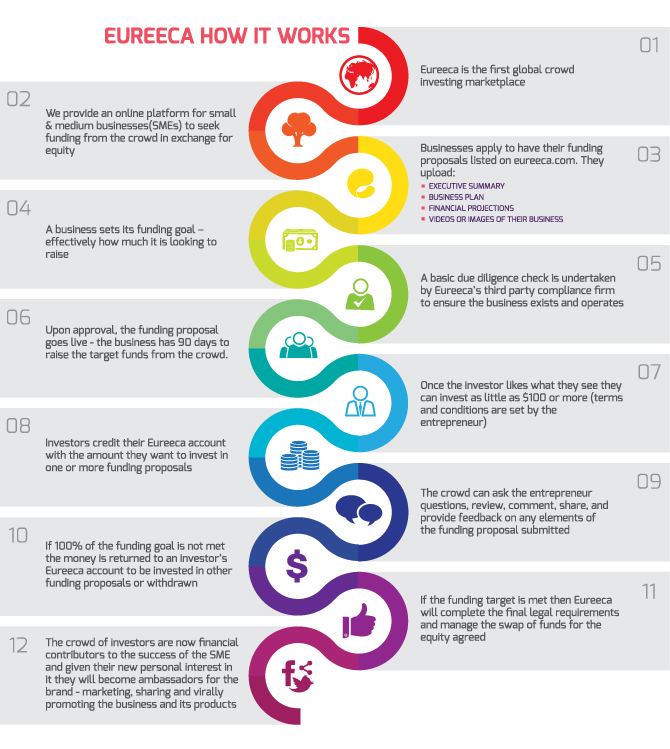 Eureeca had successfully funded many great startups the likes of Core Fit is an established multifunctional facility offering programs in dance, aerobics, yoga, strength & conditioning, and more from the UAE and Weziwezi.com is one of the fastest growing social media and Arabic content sharing websites in the Arab world from Jordan. For more info, check Eureeca.com