When you have a passion for fashion, affection for beauty and an eye for elegance, you would be destined to become a successful fashion blogger. Meet the Simple Girl from Amman, the pharmacist who is behind the successful fashion blog "World Fashion Addict".
Zina has created her Instagram account with a simple idea in mind, "We might differ in opinions, religions, or nationalities, but we all unite in fashion love". Her account soon became a shrine for every girl who wants to know the happening in the fashion world. Zina managed to create great friendships with regional fashionistas and she has become the trusted source to her followers when it comes to fashion. Read more about Zina and World Fashion Addict.
Q: All girls love fashion, but you took that passion to another level and created WFA, Tell us about your beginnings and how did you start your blog?
A: I have always loved fashion, and believed that fashion is not only meant for red carpet celebrities, that's why I created WFA! It all started as a small account posting random fashion tips/clothes…etc , till I started the reposting idea and it grew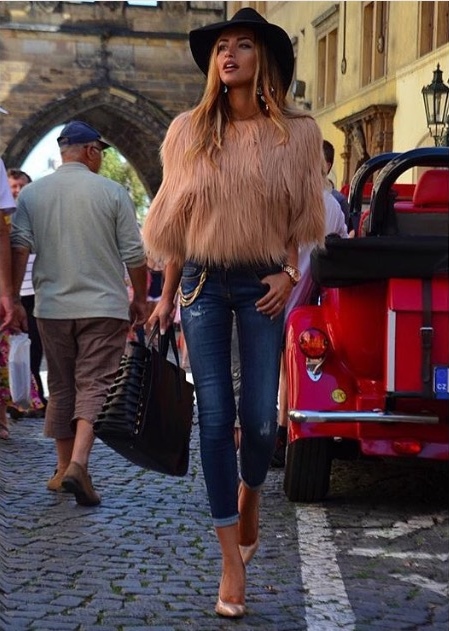 Q: You are a pharmacist by degree, but a fashion Instagram-er by choice. How did you manage to balance both the worlds although studying such major is NOT easy.
A: I was in my third university year when I started WFA, and I can still remember the day I started reposting it was july 2013 and I had a final exam the next morning, lol!
I admit managing both wasn't an easy thing, especially with such major,it was all about scheduling my time to maintain a consistency in the posting routine . a post every three-four hours to go with the flow
                                  

Q: What do you aspire to achieve through WFA ? What is the massage you want to send to the world?
A: I always believed in streetsyle, and wanted to prove that fashion is not only for celebrities and red-carpet , any girl can be a fashionista f she has that fashion sense.
Q: Where do you draw your inspiration from? who is your idol when it comes to fashion?
A: That's a very hard question to answer, I am more into classy and feminine style rather than edgy or hippy style , If I only have to pick one I would say Queen Rania of Jordan, she describes elegance to the max.

Q: Do you think "Blogging" will be the next marketing and advertising tool when it comes to fashion?
A: of course it will! Who still buys magazines or newspaper nowadays when photos are just a click away! I believe marketing through blogs can be a very smart marketing strategy; you reach thousands of interested people in a second
Q: Where do you see WFA in 5 years?
A: WFA in 5 years hopefully will be an established fashion  blog with a huge fan-base  , or a renowned brand name , who knows?
                                
Q: What do you think of Trending5000.com concept ?
A: Trending5000.com is a great way for business seekers, giving them a great chance in becoming a trendsetter in their field. It just helps everyone, those who started and others who want t start! It makes dreams true! and Thank you for this very sweet interview!
To learn more about the hottest blog in Amman and her amazing Instagram account, check out World Fashion Addict profile on www.Trending5000.com